Dear readers,
I have great news.  You can start getting rid of all those ugly boxes call external hard drives and start replacing them with laptops. I currently own about 7 laptops.  They all serve a very particular service and about 14 external hard drives ranging from 500 GB to 2 TB, single hard drive or mirrored copies. I probably have about 6TB of data. ALL VERY IMPORTANT TO ME.
I have really struggeld finding solutions to wear and tear on hard drives, power/electrical surges,  theft, fire and I even worry about floods. Yes I tend to make sure every angle is covered in many apsects of my life.  Anyways the way to do it now is to buy a small netbook or laptop. They can range from 179 to 260 and with a service like CARBONITE. You can back up your files automatically for around 50 dollars a year.
I really wanted to share this with you. A n external hardrive with RAID 1 like Guardian MAXimus can cost anywhere up from $300 dollars and it won't necessarily be protected against electrical surges since both hard drives receive the same electrical current. If you unplug it then its not automatically and by now I hope you understand the value of setting things on automatic.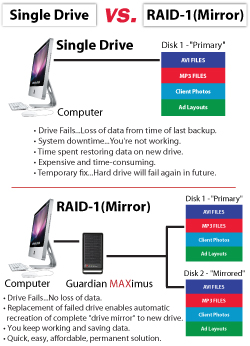 Don't get me started on non-mirrored hardrives…That's as good as a floppy disk if you ask me… No actually worst, because they can hold more data that is not backed up anywhere.
People asked me why so many copies why so many laptops isn't it unnecessary. I always remind them that the worst number in business is 1!
Tweet This Post ...Click Here!
Delicious ...Click Here!
Digg This Post ...Click Here!
Facebook ...Click Here!
MySpace
Reddit ...Click Here!
Stumble This Post ...Click Here!